Each PLV garment is cut, sewn and packaged in-house like a work of art with incredibly detailed attention to every design element, from the finest fabric to the signature hardware to the tiny Swarovski crystal embroidered by hand onto each garment and brooch.
With an inimitable focus on craftsmanship, each PLV ensemble is designed only after an intense research process to ensure the customer gets a one-of-a-kind timeless creation.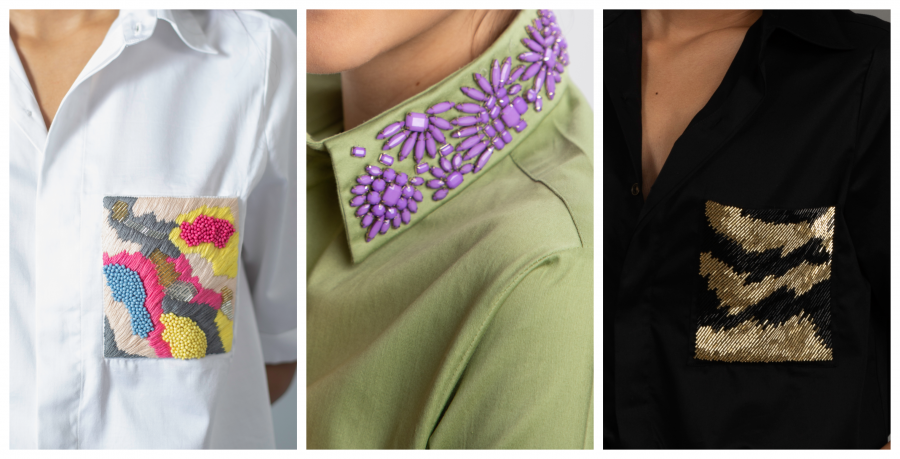 Stages of the Perfect Design
A 2-month long process that involves:

Research and Innovation: A dedicated design team researches the customer's pulse, lifestyle, latest global trends and techniques. Then, using unbridled creativity, the inspiration mood boards are made in sync with the brand's character.
Design Blueprint: Some artworks are sketched and painted, while some are created using a computer-aided design, keeping in mind the newest fabrics, embellishments, and techniques.
Sourcing: An uncompromising approach is adopted in using the finest, most luxurious materials in terms of fabrics, Swarovski stones, beads, threads etc., to execute the design.
Sampling and Embellishing: Skilled karigars and handcraft each embroidery sample multiple times before finalizing the hero piece using sustainably sourced Swarovski stones. Each embellished portion takes hours and sometimes days of intense labour to complete, after which it is then stitched onto the garment. Artisans have exceptional attention to detail and garment-fittings to achieve an impeccably intricate finish for the wearer.
Sustainable Production: With a motto of doing more with less, at PLV, we have adopted a mindful approach to design and manufacturing. Sustainable practices like upcycling leftover fabric, employing sustainable stones and following a minimum wastage policy are the norm. Every PLV Ready-to-wear garment or accessory is versatile enough to be worn and styled in multiple ways.